THIS IS A SIDE PAGE
Return to Main Page on Daikoku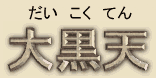 DAIKOKU, DAIKOKU-TEN
God of Wealth, Farmers, Food, & Kitchen
DAIKOKU
by Ryan Grube (University of Wisconsin-Eau Claire)
www.uwec.edu/philrel/shinbutsudo/daikoku.html
Daikoku, also known as Daikokuten, is a popular household Kami who brings good fortune and prosperity to those who believe in him. The patron deity of artisans, craftsmen, farmers, and millers, as well as of business persons, bankers and financiers, he is one of the "Shichi Fukujin," or Seven Lucky Gods of Japan. Together, the seven lucky gods oversee the physical and material well-being of people and have come to be honored throughout the country.
As Gunsaulas points out, the worship of Daikoku is a prime example of the unique religious synthesis known as "Ryobu Buddhism," which reconciled indigenous Japanese traditions with the teachings of Chinese Buddhism (76). In the process, Shinto gods found new homes within a Buddhist context. One can clearly see the mixture of religious origins in Daikoku's case. Traces of the foreign background appear in his personal attire, for he usually appears as a well-dressed Chinese gentleman, sometimes sitting or standing on bales or bags of rice, at other times with bags of treasure or jewels slung across his shoulder. Other signs and symbols associated with him point to origins in Indian Brahmanism as well as Chinese Taoism. Such cross-cultural influences are actually not surprising, given that his cult entered Japan at a time when Chinese culture and Buddhism were much in vogue. To the Japanese of the sixth century, China was obviously superior in terms of both material and spiritual development; thus Daikoku's representation as a Chinese gentleman. In addition, the symbolism of rice, associated with fertility, makes Daikoku a perfect symbol of material and spiritual prosperity.
Daikoku is said to be in part a Japanese adaptation of Mahakala, the dignified, black-faced Brahmanic goddess of procreation often placed before Buddhist temples for protection. Daikoku has much in common with his Indian counterpart. The Kanji for Daikoku's name means, according to one interpretation, "Great Black One," and he is sometimes shown with a blackened face. Another possible point of symbolic fusion occurs in his magical wealth-giving mallet, which is sometimes inscribed with representations of the male and female principles, at other times with a jewel, and at still other times with a pear-shaped insignia consisting of three rings (Czaja 270). These symbolic images suggest that sexual energy can be a powerful source of wealth and prosperity. The ancient Shinto belief that the power of human sexual activity could be utilized to promote crop growth was, according to Czaja, "the religious expression of the integration of sex and food, the most vital forces in nature, in the lives of the Japanese people" (262). Japanese veneration of Daikoku as the protector of the soil and patron of farmers makes for an unmistakable connection between the two because of this, and probably accounts for his association with a female deity such as Mahakala.
In popular Japanese mythology, Daikoku uses his magical mallet, called Uchide-no-Kozuchi, to create wealth or in some cases grant wishes to young children. This image may relate back to Daikoku's roots in Shinto; for another interpretation of his name in Kanji translates to "O-Kuni," which is short for O-Kuni-Nushi no Kami, the "God of the Great Realm" or "Prince Plenty" (Gunsaulus 77). Like O-Kuni-nushi, Daikoku is generally ascribed with a happy, sturdy and benevolent disposition in the Japanese narratives. Seen below is a list of further manifestations of Daikoku, all of which contain definite elements of Buddhist mythology infused with Shinto symbols of fertility, wealth, and power.
Six Distinct Versions of Daikoku:
Makura Daikoku, ordinary form with mallet on lotus leaf.
Ojikara Daikoku, with sword and vajra.
Bika Daikoku, priest, mallet in right hand, vajra-hilted sword in left.
Yasha Daikoku, with Wheel of the Law in his right hand.
Shinda Daikoku, a boy seated with a crystal in his left hand.
The other significant attribute of Daikoku is the Rat, which, as Davis explains, is symbolically related to the wealth hidden in the Kami's bag (211). Apparently the idea here is that, with surplus grain comes the inevitable free loader who, however, is viewed as non-threatening in a context of overflowing abundance. Though a devourer of rice, the rat is also associated with the god of wealth because the "Day of the Rat" is sacred to Daikoku (Gunsaulus 78), and by this association Daikoku is also related to the sign of the rat in the Japanese zodiac. Davis retells a story explaining some of Daikoku's relationship to the rat:
According to a certain old legend, the Buddhist Gods grew jealous of Daikoku. They consulted together and finally decided that they would get rid of the too popular Daikoku, to whom the Japanese offered prayers and incense. Emma-O, the Lord of the Dead, promised to send his most cunning and clever oni (goblin), Shiro, who, he said, would have no difficulty in conquering the god of wealth. Shiro, guided by a sparrow, went to Daikoku's castle, but though he hunted high and low he could not find its owner. Finally Shiro discovered a large storehouse, in which he saw the god of wealth seated. Daikoku called his special assistant, the Rat, and told him to find out who it was that dared so to disturb him. When the rat saw Shiro he ran into the garden and brought back a branch of holly, with which he drove the oni away. To this day, Daikoku remains one of the most popular of the Japanese Kami. This incident is said to be the origin of the New Year's Eve charm, consisting of a holly leaf and a skewer, or a sprig of holly fixed in the lintel of the front door of a house to prevent the return of the oni (212).
Daikoku is often represented together with the other Shichi Fukujin in Japanese art. Frequently they are shown riding a Treasure Ship, called Takara-bune. Davis notes that during the Japanese New Year pictures of this ship are placed under children's pillows in order to bring them lucky dreams (116).
SOURCES