Early Schools & Sects of Japanese Buddhism
Japan's Asuka & Nara Periods (552 to 794 CE)
THIS IS A SIDE PAGE. RETURN TO MAIN MENU.

Rokushū 六宗
SIX SCHOOLS OF NARA BUDDHISM

Nanto Shichidaiji 南都七大寺
SEVEN GREAT SOUTHERN TEMPLES OF NARA

EDITOR'S NOTE: This page also serves as a monograph for topics not generally covered elsewhere at this site, including ordination platforms, important Korean and Chinese monks who played formative roles in the early decades, and the involvement of institutionalized Buddhism in early Japanese state affairs.

OVERVIEW. Buddhism arrived in Japan around + 520-550 via Korea and later China, and spread quickly thereafter under the patronage of the court and Imperial Prince Shōtoku, Japan's first great patron of Buddhism. Numerous temples were constructed, and Japanese missions dispatched to the mainland to learn more and bring back sutras and icons. The new temples were staffed largely by monks and artisans from Korea and China, and served as centers of Buddhist study. Around +710, the capital moved from the Asuka area to Nara (Heijōkyō 平城京), where Buddhism flourished among the court and nobility. The Six Schools of Nara (六宗) were mostly academic Buddhist sects, introduced to Japan from Korea and China in the late 6th and early 7th centuries. All six sects were under Japanese state control, centered in the capital Nara, devoted to mastering Buddhist philosophy from mainland Asia, and to maintaining court patronage. This period is called Nara Buddhism. It was marked by strong court-clergy relations and by lavish state spending on Buddhist temples, images, and texts. It did not show much doctrinal innovation, and was largely devoted to state functions and academic study. During this period, the six sects competed for prominence and patronage with the Japanese imperial court, and Buddhism remained confined largely to the nobility and imperial family. Because Nara was situated to the south of Kyōto (the capital in the subsequent Heian Era), these six sects are also known as the Six Southern Schools of Nara Buddhism. Clergy and aspiring acolytes studied at various government-sponsored temples, with the Seven Great Southern Temples of Nara (Nanto Shichidaiji 南都七大寺) serving as the main academic centers. Many of the seven also served as home to important government-run workshops that made Buddhist statues and other artwork. The Asuka and Nara periods are considered the Great Age of Gilt Bronze Statuary in Japan.


Rokushū 六宗 (also Rokushuu / Rokushu)
Six Schools of Nara Buddhism


Seven Great Southern Temples of Nara
Nanto Shichidaiji 南都七大寺
Buddhist Study in Early Japanese Buddhism
Centers of Learning for the Six Nara Schools of Buddhism
Tōdaiji, Toudaiji, Todaiji

東大寺

(Kegon School)
Gangōji, Gangouji, Gangoji

元興寺

(Sanron & Jōjitsu Schools)
Saidaiji 西大寺

(Ritsu School)

Yakushiji

薬師寺

(Hossō School)
Daianji

大安寺

(Sanron School)
Kōfukuji, Koufukuji, Kofukuji

興福寺

(Hossō School)
Hōryūji, Houryuuji, Horyuji

法隆寺

(Sanron & Hossō Schools)

Note A: Details about these temples are presented below (listed together with their relevant school).

Note B: The school designation given for each temple is not entirely accurate. It is provided as a convenience to readers. Each of the seven temples studied the teachings of all six schools. Sanron, Hossō, and Ritsu were by far the most studied, with the Hossō school gaining great prominence by the late Nara era, but the temples, as a general rule, did not cling one-sidedly to any single school. Four of the seven temples (Kōfukuji, Gangōji, Daianji, Yakushiji) were established outside Nara, but when the capital moved to Heijōkyō

平城京

(today's Nara city), these four moved as well. In the subsequent Heian era, when the capital was transferred to Heiankyō

平安京

(modern-day Kyoto), the temples did not move from Nara, as one of the primary goals of the transfer was to distance the court from involvement by the Buddhist monasteries. In the 11th century, the seven great temples became a popular pilgrimage route. In the Edo era (+1615-1868), Tōshōdaiji

唐招提寺

replaced Hōryūji. Tōshōdaiji is the current headquarters of the Ritsu sect. Hōryūji Temple, one of Japan's most prestigious temples, seceded from the Hossō school in +1950 to establish the Shōtoku sect, devoted to the memory of Prince Shōtoku. Hōryūji Temple, since the introduction of Buddhism to Japan, has remained the key devotional center of Shōtoku's legacy.

Six Schools of Asuka / Nara Buddhism

Six Patriarchs of Japan's Hossō School
Colored Wood, Dated +1189, H = 73.3 cm to 84.4 cm
National Treasures at Kōfukuji Temple 興福寺
Carved by Koukei, father of Unkei.

Top Row, L to R
Genpin 玄賓 (d. 818), Jōtō 常騰 (d. 815), Gyōga 行賀 (d. 803)

Bottom Row, L to R
Genbō 玄ぼう (d. 746), Shin'ei 神叡 (d. 737), Zenshu 善珠 (d. 797)
Kasō 嘉操 is sometimes included instead of Genbou.

Temples of Importance to Hossō School

Kōfukuji (Kofukuji, Koufukuji) Temple
One of Hossō (Hossou, Hosso) Sect's main centers. One of the Seven Great Temples. 興福寺 ・ 法相宗 ・ 奈良市 ・ World Heritage Site. Founded in +669 in Yamashina Suehara (today's Kyoto City) by the powerful Fujiwara 藤原 clan and named Yamashinadera 山階寺. It moved twice after that, once to Umayasaka (Nara prefecture) and then again, when the capital was transferred to Heijōkyō 平城京 (today's Nara city), when it was renamed Kōfukuji Temple 興福寺. It is also sometimes referred to as Kasuga-ji or Kasuga Temple 春日寺, to differentiate it from the Fujiwara 藤原 family shrine, the famous Kasuga Taisha Shrine 春日大社 (also located in Nara), to which Kōfukuji Temple is closely related. Kōfukuji houses a rich collection of Buddhist art from the Nara era, including statues of the Six Japanese Patriarchs (see above photos), plus statues of Hossō's Indian patriarchs, the brothers Asanga (Muchaku 無著) and Vasubandhu (Seshin 世親). The latter were carved by the famed Unkei. Also home to famous 5-story pagoda, last rebuilt in +1426. The Kasuga Mandara 春日曼荼羅 is a type of artwork that includes devotional paintings of the deities and landscape of Kasuga Taisha Shrine 春日大社 (founded in Nara in the 8th century), but it may also refer to the scenery and deities of Kōfukuji Temple. Koufukuji Temple also served as an important government-run workshop making Buddhist statues in the Nara and Heian era.
Open 7 days weekly. TEL: 0742-22-7755
Temple Web Site | Another Outside Link

Yakushiji Temple, Main Headquarters Hossō Sect. One of the Seven Great Temples. 薬師寺 ・ 法相宗 ・ 奈良市
World Heritage Site. Open 7 days weekly.
TEL: 0742-33-6001 Temple Web Site | Another Outside Link
Following paragraph adapted from Japan Nat'l Tourist Organization. Yakushi-ji Temple, adjoining Toshodai-ji, is the temple founded by Emperor Temmu in the 8th century, to pray for the recovery of his wife, the Empress Jito, from a life-threatening disease. In a strange twist of fate, the Emperor died, and the temple was finished by the Empress. The magnificently decorated main hall (Garan) was at one time called "the Dragon's Palace on Land". The East Tower (To-Tou) in the precincts is the original structure, which has been preserved ever since its foundation and is the symbol of Nishi-no-Kyo (the western capital). This famous temple, one of the Seven Great Temples of Nara and the headquarters of the Hosso sect, was constructed in + 698 in another section of Nara and moved to its present location in + 718. Yakushiji also served as an important government-run workshop making Buddhist statues during the Nara and Heian eras. It still retains a number of excellent wooden statues from those bygone days.

Hōryūji or Houryuuji 法隆寺. World Heritage Site. See listing above for details, contact numbers, and temple's web site.

Asuka and Nara Periods +552 - 794
OTHER RELIGIOUS & PHILOSOPHICAL INFLUENCES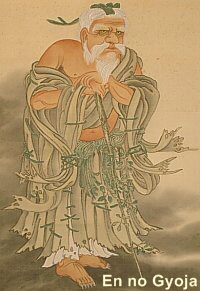 Shugendō 修験道. Loosely translated as "path of training to achieve spiritual powers." A major syncretic sect of Shinto, Taoist, and Buddhist beliefs that combined pre-Buddhist mountain worship and ascetic practices with esoteric Buddhist teachings in the hopes of achieving magical skills, medical powers, and long life. Practioners are called Shugenja 修験者 or Yamabushi 山伏, meaning ascetic monks or monks of the mountain, who perform fasting, meditation, and austere feats of endurance such as standing under cold mountain waterfalls or in the snow. One of the most celebrated mountain sages was En no Gyoja 役行者 (also known as En no Ozunu or En no Shoukaku 役小角, as well as En no Ubasoku 役優婆塞). His posthumous title is Shinben Daibosatu 神辺大菩薩 (Miraculous Great Bodhisattva). Artwork of En no Gyouja dates from the Kamakura period onward, and is found most frequently among temples of the Shingon sect, which was strongly influenced by Mt. Ōmine mountain asceticism. This legendary holy man was a mountain ascetic of the late 7th century. Like much about Shinto-Buddhist syncretism, his legend is riddled with folklore. He was a diviner at Mt. Katsuragi on the border between Nara and Osaka. Said to possess magical powers, he was expelled in +699 to Izu Prefecture for "misleading" the people and ignoring state restrictions on preaching among commoners. He is considered the father of Shugendo. Popular lore says En no Gyoja climbed and consecrated numerous sacred mountains. En no Gyoja is mentioned in old Japanese texts like the Shoku Nihongi 続日本紀 (compiled around +797) and the Nihon Ryouiki 日本霊異記 (compiled around +822). Shugendo's main centers of practice today are on Mt. Ōmine 大峰山 near Nara (also called Mt. Sanjo), and Mt. Kinpusen 金峯山 near Yoshino. The head temple at Mt. Omine is Ōminesanji 大峰山寺 and that at Mt. Kinpusen is Kinpusenji 金峯山寺, the latter venerating the sycretic deity Zao Gongen 金剛蔵王権現. Both temples are located near each other in the Yoshino-Kumano National Park in Kansai. The park area was designated a World Heritage Site by UNESCO in 2004. Even today, women are forbidden to climb to the summit of Mt. Ōmine. The age-old tradition of banning women from certain holy sites was enforced widely in Japan until modern times, for women were considered disruptive to the monastic practices of the male practitioners. Among Buddhist deities worshipped by the Sugendou cult, Fudo Myou-ou is perhaps the most popular. During the late Heian era, Shugendou was incorporated into the two mainstream Buddhist schools of that day -- Shingon and Tendai -- and are known as the Honzan-ha (Tendai) and Tozan-ha (Shingon) branches of Shugendou. One particular practice of Shugendou monks was to set up stone or wood markers (Jp. = Hide 碑伝) along mountain trails, presumably to leave proof of their mystical journeys up the mountain. One of the main Shugendou texts, of dubious origin, is a sutra entitled "Sutra on the Unlimited Life of the Threefold Body."

Temples of Importance to Shugendō



Mt. Kinpusen

Mt. Ōmine

LEARN MORE
www.taleofgenji.org
This exceptional site, by Craig Emmott, records the author's ongoing effort to photograph places featured in The Tale of Genji and other Heian-era diaries and chronicles, mainly in the area around Kyoto and Nara. The site covers 200+ temples and shrines, accompanied with commentary and numerous photos. Highly recommended.

Emmott's Pages on the Seven Great Temples of Nara
OFFICIAL WEB SITES OF THE NARA TEMPLES
Japanese language only. Some temples don't host web sites.
OTHER ONLINE RESOURCES
A Japanese Curriculum of 758, by Ross Bender and Zhao Lu.
Abstract: In an edict (choku) of 758, the Empress Kōken ordered a curriculum for the students at the National Academy. It listed seven fields of study and the Chinese works to be studied in each field. These include well-known classics and some that are much more obscure. This list provides perhaps the most detailed view available of the official curriculum of study in mid-Nara Japan.

THIS IS A SIDE PAGE
RETURN TO MAIN TIMELINE MENU
Last Update November 2010