Onigawara 鬼瓦
Literally "Demon Tile" or "Goblin Tile"
Also known as Oni-ita 鬼板 or Hanagawara 花瓦

Decorative Roof Tiles
Onigawara are decorative roof tiles typically placed at the ends of the main ridge on temple structures, shrines, and residences. As an ornamental architectural element, Onigawara (literally "goblin tile") came to prominence in Japan's Kamakura period (1185 -1332), but the term is also used for decorative roof tiles in the shape of flowers or animals that were already used in the earlier Nara and Heian periods to prevent leaks and general weathering. The goblin-faced Onigawara is one of many decorative elements found in Japanese religious architecture. Other examples include the magical shishi (lion dog), the elephant-like Baku creature (thought to devour nightmares), the dragon, the phoenix, and the imaginary tiger-headed fish-bodied Shachihoko. In most cases, these elements serve decorative, functional, and protective roles in preventing weathering and in warding off evil spirits, fire, etc. Today Onigawara are found most frequently on temple structures.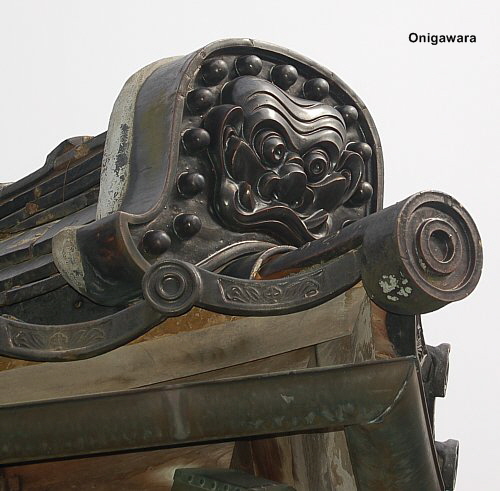 Onigawara atop the Ishitani Residence 石谷家住宅 in Chizu City, Tottori
Photo by A to Z Dictionary of Japanese Buddhism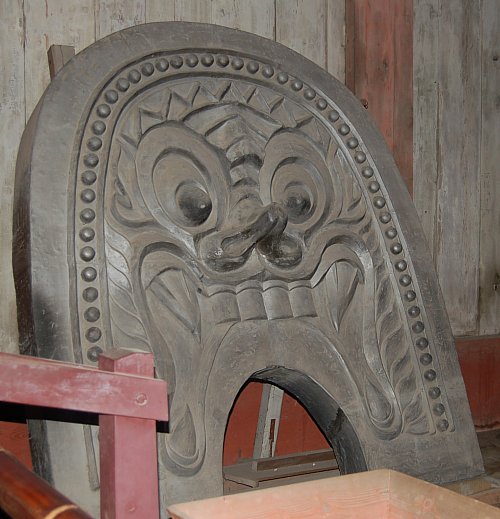 Old tile on display inside Tōdaiji Kondō 東大寺金堂 (Nara)
Photo by A to Z Dictionary of Japanese Buddhism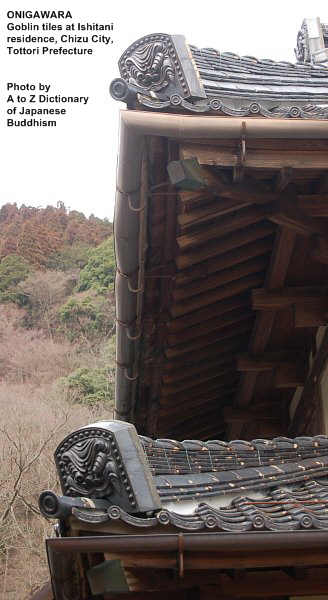 Says JAANUS
(Japanese Architecture and
Art Net Users System)
~jaanus/deta/o/onigawara.htm. Onigawara 鬼瓦. Lit. goblin tile. The genelic name for decorative roof tiles found at the ends of a main ridge *oomune 大棟, or descending ridge (kudarimune 降棟). In the Nara and Heian periods they were usually decorated with flower or animal designs, and in the Kamakura period with a goblin (oni 鬼) mask. Usually tile but occasionally made of stone or wood. Swirling or wave patterns found at the bottom right and left of the onigawara are called Hire 鰭. In the case of temples, shrines and palaces the terms Oni-ita 鬼板 or Hanagawara 花瓦 are sometimes used insted of onigawara.

~jaanus/deta/o/oniita.htm. Oni-ita 鬼板. A wooden board or an undecorated tile used in place of ogre face tiles (onigawara 鬼瓦) at each end of the main ridge. Originally, in the 7c-8c, tiles were used as a device to prevent leaks and general weathering on the ridge ends. According to some scholars, these were rarely decorated with an ogre face, but were left plain. Oni-ita are believed to have appeared first in the 8c and became very popular during the Heian period (794-1185). Many oni-ita were covered with copper sheeting in later periods. The name in later periods, is also used for a ridge-end plate with an ogre mask. A few examples can be seen on miniature shrines (zushi 厨子) placed within the (hondou 本堂), the chief sanctuary, of a temple. One example of wooden oni-ita with an ogre mask attached is found at Joukouji Hondou 定光寺本堂 (between 14c-16c) Aichi prefecture and Houjuuji Kokuuzoudou 法住寺虚空蔵堂 (1485) Nagano prefecture.

~jaanus/deta/h/hanagawara.htm. Hanagawara 花瓦. Also hashigawara 端瓦. Lit. flower tile. An edge or border tile originally, the word came to replace the more difficult term (abumigawara 鎧瓦) which in 7c-12c was usually decorated with a stylized lotus flower pattern (rengemon 蓮華文). The WAMYOURUIJUUSHUU 倭名類聚鈔 (10c), a kind of dictionary, included hanagawara, and hashigawara 端瓦 (lit. end or edge tile), a term with a similar meaning. By the late Heian period, a comma pattern (tomoemon 巴文) came to be preferred over the lotus pattern and it is possible from that time on the terms hanagawara and hashigawara were gradually superceded by tomoegawara 巴瓦. In the 7c-12c, hanagawara and hashigawara became interchangeable and were also applied to the broad concave eave-end pendant tile (nokihiragawara 軒平瓦).

OTHER RESOURCES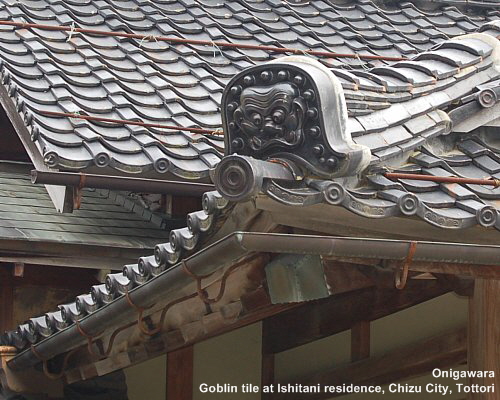 Photo by A to Z Dictionary of Japanese Buddhism
LEARN MORE