HELL SCROLLS

Other Hell-Related Pages
Sainokawara, Jizo, & Ten Kings of Hell
Demon Mom - Kariteimo
Rasatsu - Eight Legions
BACKGROUND. Six States of Existence. All sentient beings are trapped in the cycle of suffering (Sanskrit = samsara), the cycle of death and rebirth, unless they can break free by achieving enlightenment. There are six states in the cycle. The lowest three states are called the three evil paths, or three bad states. They are (1) people in hells; (2) hungry ghosts; (3) animals. The highest three states are (4) Asuras; (5) Humans; (6) Devas. To escape from the cycle, one must either (1) achieve Buddhahood in one's life, or (2) be reborn in Amida Nyorai's Western Pure Land, practice there, and achive enlightenment there. Those reborn in the Pure Land are no longer trapped in the cycle of birth and death (samsara), and can thus devote all their efforts to attaining enlightenment. Technically speaking, the road from hell to Buddhahood covers ten stages, not six. For full details, please visit the Six States of Existence page.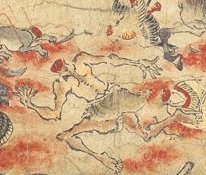 Masuda Family Hell Scroll
Below Photos/Text Courtesy: Tokyo National Museum
Originally mounted as a handscroll that was known as the "Second Edition of the Masuda Family Hell Scroll." The acts of each of the gods in exterminating evil are briefly explained in the texts accompanying the illustrations. This scroll set, which brings together a number of unusual images, has had strong connections to the Southern Capital of Nara and to the Hell Transformation Screens (J. Jigokuhen Gobyobu), which were used in year-end repentance ceremonies, held at the Imperial Palace up until the Heian period, in which the names of the Buddhas were recited (J. butsumyoe).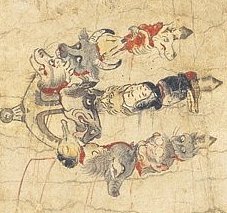 Like other paintings of the Six Paths (J. Rokudo-e) such as the Hell Scroll, it is conjectured to have been made during the time of Emperor Goshirakawa (1127-92, r. 1155-58) in the latter part of the Heian period (794-1185) and kept in the treasure house of Rengeo-in Temple (Sanjusangendo). One view holds that the calligraphy for the Extermination of Evil (Hekija-e, or Exorcists Scroll) was brushed by the same hand as that of the Hell Scroll (J. Jigoku zoshi) in the Tokyo National Museum and the Demon of Punishment (J. Kando no oni) in the Fukuoka City Museum of Art.

The God of Heavenly Punishment (see below photos) -- literally "the star [that metes out] heavenly punishment" -- is a demon from the China's Yin-Yang tradition. In Japan, he was incorporated into Esoteric Buddhist prayers. In this painting, he is shown consuming the Ox-headed Deity (J. Gozu Tennō 牛頭天王), the pestilence god worshipped at Gion Shrine in Kyoto. <end quote>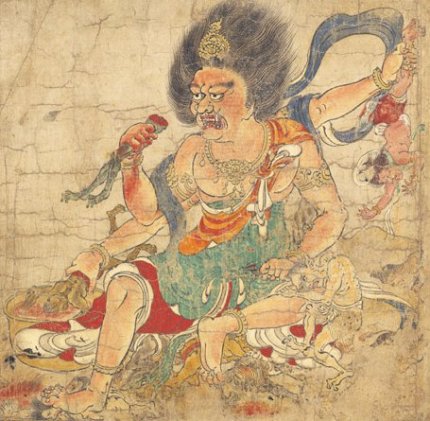 Circa 1127 - 1192 AD. Photo Courtesy of the Tokyo National Museum
天刑星 // てんけいせい // God of Heavenly Punishment
From the Scroll Entitled: 辟邪絵 // へきじゃえ // Extermination of Evil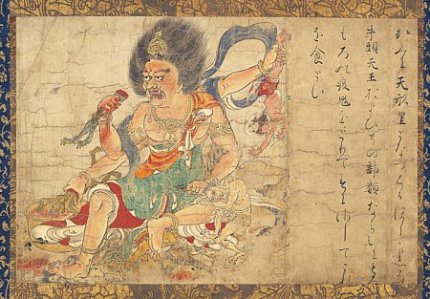 Circa 1127 - 1192 AD. Photo Courtesy of the Tokyo National Museum
See More Artwork