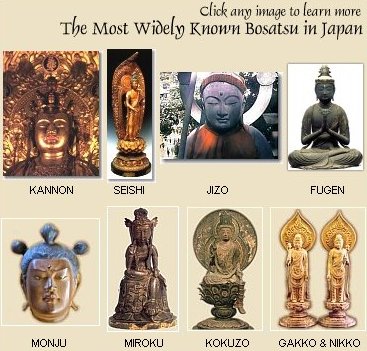 See Below List for More
Listed generally in order of popularity in Japan.
All closely associated with Mahayana traditions.

B

ODHISATTVA MENU



BODHISATTVA (Sanskrit)
BOSATSU 菩薩 (Japanese)

Bodhi = enlightened
Sattva = being, essence
The Compassionate Ones
Penultimate state before Buddhahood

Origin = India
Compassion is the defining characteristic of the Bodhisattva, whose highest aspiration is to save all sentient beings. The Bodhisattva concept is closely associated with Mahayana Buddhism, and has at least three distinct meanings. The Mahayana form in particular spread throughout Japan, thus most surviving Buddhist sculpture in Japan today belongs to the Mahayana tradition.
BOSATSU (BODHISATTVA) - Quick View Chart

Bodhisattva will certainly attain Buddhahood, but for a time, they renounce the blissful state of Nirvana (freedom from suffering), vowing to remain on earth in various guises (reincarnations) to help all living beings achieve salvation. The highest goal of Mahayana practitioners is to become a Bodhisattva, while the highest goal of Theravada practitioners is to become an Arhat. See Comparing Enlightened Beings in Mahayana & Theravada Buddhism.

English

Japanese

Sanskrit

Description

KANNON
Guānyīn (China)
Kuan-yin (China)

観音菩薩

Avalokitesvara

God or Goddess of Compassion; comes in 33 basic manifestations based on the Lotus sutra, but more than 100 forms of Kannon are worshipped in modern Japan; attendant to Amida Nyorai; also associated with Tara Bosatsu

地蔵菩薩

Ksitigarbha

Salvation from suffering; guardian of deceased children (stillborn, aborted), expectant mothers, firemen, travelers, and pilgrims; found especially in graveyards

弥勒菩薩

Maitreya

Also called Jishi Bosatsu; in artwork appears mostly as Bosatsu, but also worshipped as Buddha of the Future (Miroku Nyorai)

虚空蔵菩薩

Akasagarbha

Deity of Memory and Wisdom; Protector of Craftspeople and Artisans

文殊菩薩

Manjushri
or
Manjusri


Bosatsu of Wisdom and Beautiful Splendour; Dispels ignorance with sword; also god of education; governs intelligence; often shown atop a lion

普賢菩薩

Samantabhadra

God of Praxis (Practice); Protector of those who teach Buddhism; often shown atop an elephant

勢至菩薩

Mahasthamaprapta

Bosatsu of Strength and Vigor; one who attained wisdom and compassion; attendant to Amida

月光菩薩

Candraprabha
Sibling to Nikko

Bosatsu of Moonlight; protector serving the Yakushi Nyorai; sometimes attending the Kannon

日光菩薩

Suryaprabha
Sibling to Gakko

Bosatsu of Sunlight; protector serving the Yakushi Nyorai; sometimes attending the Kannon

YAKU-Ō

薬王菩薩

Bhaisajyaraja
Bhaiṣajya-rāja

Ch = Yàowáng Púsà



King of Medicine; one of two brothers in retinue of Amida Nyorai; represents purifying power of sun; in paintings, typically shown holding willow branch; also closely related to Yakushi Nyorai; elder of two brothers (see Yaku-jo below), the first to decide on career as Healing Bodhisattva; convinced younger brother to adopt same course

YAKU-JŌ

薬上菩薩

Bhaisajyasumudgata
Bhaiṣajyasamudgata

Ch = Yàoshàng púsà

Superior Physician; one of two brothers in retinue of Amida Nyorai; represents the purifying power of sun; in paintings, typically shown holding willow branch; also closely related to Yakushi Nyorai; younger brother of Yaku-o (see above)

法蔵菩薩

Dharmakara

Originally a king who abandoned his throne, Hozo Bosatsu made 48 Vows which serve as the basis for the modern vows taken by lay followers, monks, and nuns; after fulfilling the vows, Hozo became Amida Nyorai; Hozo is said to have practiced meditation for five eons, after which he took the 48 vows

多羅菩薩

Goddess. Not until the 4th century AD does the feminine principle gain acceptance in Mahayana traditions; around the 6th century, the goddess Tara appears as Kannon's Śakti (Skt.), which means "female personification or "female energy of the male god"); Tarani is sometimes depicted as Kannon's wife; not widely known in Japan or China

HANNYA
Han'nya

Dai-Hannya
Haramitsu

般若菩薩

Prajñā
Prajna
Prajna paramita

Goddess; deification of the Prajnaparamita Sutra (Prajna-paramita) or Wisdom Sutra; based on legend, this sutra was delivered by the Lord Buddha to the guardianship of the Naga; later rediscovered by Nagarjuna; images of Hannya appear mostly in Cambodia and Java; Hannya represents the Sixth Perfection, or Wisdom

There are hundreds of other Bodhisattva who appear in Japanese mandalas, but they are not well-known nor the object of independent worship. See Mandala Deities for a large list of Bodhisattva, including the Four Guardian Bodhisattva, Four Bodhisattva of the Four Directions, Four Paramita Bodhisattva, Eight Great Bodhisattva, 16 Great Bodhisattva, 25 Bodhisattva Accompanying Amida Buddha, Vajra Bodhisattva, and others.

QUICK GUIDE TO NYORAI & BOSATSU
There are two types of enlightened beings in Buddhist scriptures and iconography. In Japan, where Mahayana traditions predominant, the two types are referred to as Nyorai (Buddha) and Bosatsu / Bodhisattva (this page). Both types embody spiritual enlightenment and serve as guardians, teachers, and saviors to the faithful. Theravada traditions and artwork are of course found in Japan, although much less frequently. In the Theravada tradition, we encounter the Rakan (Arhat), the first disciples of the Historical Buddha, who are also enlightened beings, similar in many ways to the Bosatsu. However, this page (and this site for that matter) is focused primarily on Japan's Mahayana traditions. See details at our Comparing Enlightened Beings in Mahayana & Theravada Buddhism.

1. BUDDHA / TATHAGATA (Jp. = Nyorai 如来)
The term "Buddha" -- past participle of Sanskrit buddh -- means to awaken or to know. Buddha is not a personal name, but a term of praise, like messiah or christ, the anointed one. Other terms besides Buddha are used to refer to fully enlighted beings. The ten honorary titles (ten epithets) of Buddha, for example, reflect the Mahayana idea that the Historical Buddha is just one among many Buddha. In Japan, the preferred honorary title is Tathagata (Sanskrit), which is rendered in Japanese as Nyorai. For all practical purposes, the words Buddha, Tathagata, and Nyorai are synonymous in modern English usage. Each is an honorific title given to those who have attained enlightenment. Gautama, the Historical Buddha, is among the most widely recognized Nyorai in Japan and mainland Asia. Visit the Theravada, Mahayana, and Vajrayana pages for more details.

2. BODHISATTVA (Jp. = Bosatsu 菩薩)
The second type of enlightened being is the Bodhisattva. The original Sanskrit bodhisattva (bodhi = enlightenment, sattva = essence) meant "one who seeks enlightenment," but in modern Buddhism the term has taken on multiple meanings, as described below.

.


Four-Character
Chinese transliteration of Sanskrit Bodhisattva



THREE DEFINITIONS OF BODHISATTVA


The Chinese transliterated BODHISATTVA into four characters, but later abbreviated it, using only the first and third characters. The Japanese adopted the abbreviated spelling, which forms the Japanese word Bosatsu.

The term "Bodhisattva" was originally used to refer to the Historical Buddha before he attained enlightenment. With the introduction of Mahayana Buddhism, however, the term came to mean one who achieves enlightenment but delays Buddhahood, remaining instead on Earth to help all sentient beings attain salvation. This latter concept was vigorously promoted by Mahayana adherents to differentiate it from the Theravada concept of Arhat. The Arhat is also an enlightened being, but according to Mahayana believers, the Theravadin Arhat possesses an inferior, selfishly attained enlightenment, one based on "benefitting self." In contrast, the Bodhisattva (Bosatsu; this page) of Mahayana Buddhism is motivated entirely by compassion (Jp. Jihi 慈非), by the desire to "benefit others" -- indeed, the highest aspiration of the Mahayana Bodhisattva is to save all sentient beings.

Bodhisattva has a third meaning as well -- it refers to anyone who sincerely seeks to save others while pursuing the path of enlightenment. Essentially, anyone who decides to pursue the Buddhist path can be called a bodhissatva, and many Mahayanans believe there are countless bodhisattvas on earth at any moment. Whereas Theravada Buddhism stresses the monastic life -- the monk's life -- as the only path to salvation (Arhatship), the Mahayana school says anyone, including laity, can attain Buddhahood by practicing the Bodhisattva values. A related Japanese term is Ritakyusai 利他救済, meaning "emancipation by benefitting others."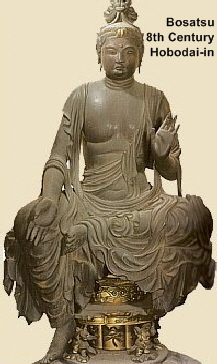 FROM BODHISATTVA TO BUDDHA
On the path to enlightenment, one first becomes a Bosatsu (Bodhisattva) before attaining Buddhahood. But before becoming a Bosatsu, one must pass through eight stages, from the lowest level of hell to the ninth level, the Bodhisattva level. The final level, the tenth level, is Buddhahood. These levels are explained below.

Those who attain the enlightened Bosatsu stage will certainly achieve Buddhahood, but for a time, they renounce the blissful state of Nirvana (freedom from suffering), vowing to remain on earth in various guises (reincarnations) to help all living beings achieve salvation. Hozo Bosatsu, for example, after countless good deeds over countless years, becomes the Amida Nyorai. In artwork, the Nyorai are often pictured together with Bosatsu acolytes. Yet both types embody spiritual enlightenment and serve as guardians, teachers, and saviors to the faithful.

In Japan and China and Tibet, highly revered monks are often elevated to Bodhisattva status, either during their lifetimes or posthumously. In Tibet, the current Dali Lama is considered to be the reincarnation of the Kannon Bosatsu (Goddess of Mercy).
"Someone is called a Bodhisattva if he is certain to become a Buddha, a "Buddha" being a man who has first enlightened himself and will thereafter enlighten others. The change from an ordinary being to a Bodhi-being takes place when his mind has reached the stage when it can no longer turn back on enlightenment. Also he has by then gained five advantages; he is no more reborn in the states of woe, but always among gods and man; he is never again born in poor or low-class families; he is always male, and never a woman; he is always well-built, and free from physical defects; he can remember his past lives, and no more forgets them again." <Translation by Edward Conze, "Buddhist Scriptures" (Penguin Books, 1973)

SIX PARMITA, SIX PERFECTIONS
In addition to compassion, there are six perfections (Jp. = Ropparmitsu 六波羅蜜) that a Bodhisattva must cultivate in order to attain Buddhahood, to which four more were added in later times (see list below). Pāramitā is a Sanskrit word meaning "to have reached the other shore," akin to a ferryboat that carries one to the other side. Beings in the six states of karmic existence are on the wrong shore, trapped in the cycle of suffering and reincarnation (the cycle of samsara). But those who have attained enlightenment (e.g., the Bosatsu) are no longer reborn on the shores of suffering, no longer trapped in the six states. They have reached the "other" shore, the shore of enlightenment. The Six Pāramitā appear in the Prajñā Pāramitā Sūtra (Wisdom Sutra). Prajñā means wisdom in Sanskrit. It was translated into Chinese as 智慧 (Jp. Chie), and means the power to discern reality or truth.
Generosity (Skt. Dana-paramita); selfless and impartial generosity.
Chinese-Japanese 施波羅蜜; also translated as Charity.
Discipline (Skt. Shila-paramita); observance of the ethical regimen.
Chinese-Japanese 戒波羅蜜; also translated as Morality.
Patience (Skt. Kshanti-paramita); patient endurance of difficulties.
Chinese-Japanese 忍波羅蜜; also translated as Forbearance.
Energy (Skt. Virya-paramita); zealous energy in perseverance.
Chinese-Japanese 精進波羅蜜; also translated as Effort.
Meditation (Skt. Dhyana-paramita); mindful absorption in meditation.
Chinese-Japanese 禪波羅蜜.
Wisdom (Skt. Prajna-paramita); wisdom of transcendent insight, to understand the inner principle of all things; Chinese-Japanese 般若波羅蜜. See Hannya Bosatsu below.

In later times, four more perfections were added, bringing the total number of paramita to ten (Japanese 十波羅蜜 | Juuharamitsu)

Right Method (or Means).
Japanese 方便波羅蜜 (Skt. Upaya-paramita).
Vows (to uphold one's vows to attain enlightenment).
Japanese 願波羅蜜 (Skt. Pranidhana-paramita).
Manifestation of 10 powers (to perfect one's powers).
Japanese 力波羅蜜 (Skt. Bala-paramita).
True Understanding of All Dharmas or Laws (to attain omniscience) .
Japanese 智波羅蜜 (Skt. Jnana-paramita).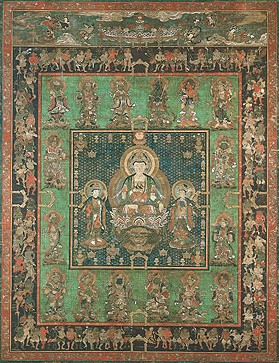 Hannya Bosatsu Mandara 般若菩薩曼荼羅
Japanese Mandala of Hannya Bosatsu
16th century; Muromachi period (1392 - 1573)
Hanging scroll; ink, color, and gold on silk
Image 64 1/2 x 48 5/8 in. (163.9 x 123.5 cm)
PHOTO: Metropolitan Museum of Art (New York)

Hannya Bosatsu 般若菩薩
Skt. = Prajnaparamita Bodhisattva
Hannya Bosatsu represents the Sixth Perfection, or Wisdom. Below text and photo courtesy Metropolitan Museum of Art (New York):

"This scroll depicts Hannya Bosatsu, the embodiment of transcendental knowledge and perfect wisdom. Hannya is rarely represented at the center of a mandala. Here Hannya is seated on a lotus pedestal on the back of a lion (shishi), flanked by two standing figures, Bonten (Brahma) and Taishakuten (Indra) -- originally Hindu gods. The triad inhabit the innermost precinct.

Hannya's 16 Protectors (Juroku Zenshin) are loosely distributed within the surrounding register. Far from the center of divinity in the outer register, carefree demonic guardians (kijin 鬼神) guard each of the sixteen protectors. Directional gates at the centers of the sides provide entry from the secular to the sacred. Heavenly music-making beings (hiten) around the canopy celebrate Hannya Bosatsu. At the bottom, in the center of the outermost register, is the figure of a monk at worship, evoking the physical world of time and space. Dragons and a Phoenix along the outermost borders serve to protect the entire abstract realm. Mandalas like this one were necessary accoutrements for rituals dedicated to the attainment of greater wisdom." <end quote>



More About Hannya Bosatsu

. Says JAANUS: In full Hannya Haramitsu (or Hannya Haramitta) Bosatsu 般若波羅蜜(般若波羅蜜多)菩薩. A bodhisattva 菩薩 personifying hannya haramitsu (Skt. = prajna paramita) or the the process of the 'perfection of wisdom' and, by extension, the sutra HANNYAGYOU 般若経 (Sk: Prajnaparamita Sutra) of Mahayana Buddhism devoted to the exposition of this 'perfection of wisdom'. These processes, usually six-fold, when performed perfectly, will allow one to cross from the shore of delusion and suffering to the shore of enlightenment. Since, therefore, this 'wisdom' is considered to constitute the basis of enlightenment, Hannya Bosatsu is also known as Butsumo 仏母 or 'Mother of the Buddhas'. For this reason, and also because in Sanskrit both prajna and pramita are feminine nouns, Hannya Bosatsu is generally depicted in female form. Her worship was very popular in Indian Buddhism, and the texts describe a variety of forms, but a feature common to most forms is that she holds a volume of scriptures representing the HANNYAGYOU. In Japan she is sometimes invoked instead of Shaka 釈迦 (aka Historical Buddha) during the daihannya-e 大般若会, a service dedicated to the ritual reading of the 600-fascicle translation of the HANNYAGYOU by Xuanzang 玄奘 (Jp: Genjou; 600/602-664). Where works are related to this ritual she is depicted either alone or surrounded by the 16 Good Deities (juuroku zenjin 十六善神) believed to protect those who recite the HANNYAGYOU. In Esoteric Buddhism (mikkyou 密教), Hannya Bosatsu appears in the Womb World Mandala (Taizoukai mandara 胎蔵界曼荼羅) as the central figure in the Jimyouin 持明院 (with six arms and clad in armour) and as a personification of one of the 'ten perfections' in the Kokuuzou-in 虚空蔵院 (with two arms). There is also a mandala known as Hannya Bosatsu Mandara 般若菩薩曼荼羅 centred on Hannya Bosatsu and variously described in different texts. <end JAANUS quote>

Four Major Bosatsu of Asia
Throughout the Asian region, there are four widely revered Bodhisattva (Bosatsu), each symbolizing different aspects of Buddhist belief and practice. They are the Kannon Bosatsu (boundless compassion), Monju Bosatsu (wisdom), Fugen Bosatsu (praxis, or practice), and Jizo Bosatsu (vast patience and salvation from suffering). Yet, generally speaking, all Bosatsu embody "compassion," for the Bosatsu, by definition, have willingly delayed their entry into Nirvana -- out of compassion -- to save the vast multitude of souls still caught in the cycle (wheel) of birth and death. In the centuries following Buddhism's introduction, moreover, a system of vows was developed -- the 48 Vows of the Bodhisattva -- for those seeking to achieve the Bodhisattva state. The vows differ somewhat among the Tibetan, Chinese, and Japanese traditions, but all originated from the vows taken and then dutifully fulfilled by Hozo Bosatsu (who then becomes Amida Buddha). There are various groupings that differ among nations and sects. For another well-known grouping of the four, please see Four Bosatsu of Compassion.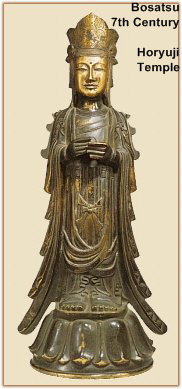 Reincarnation or Transmigration of Souls
Mahayana teachings incorporate countless manifestations of the Buddha and Bodhisattva. To Buddhists, the transmigration of souls from one creature to another has continued unabated for aeons. By tradition, there are ten stages of transmigration -- level nine is the Bodhisattva stage and level ten is Buddhahood. Those reaching full enlightenment are few, for the path to awakening is long and arduous. But the path is not closed, and in any period, one or more -- or none at all -- may appear. It is said that Gautama (Siddhartha, Shaka, the historical Buddha) did not attain enlightenment in one life time, but rather struggled over many lifes and through numerous incarnations to finally become a Bodhi-being. In Theravada Buddhism, the term Bodhisattva actually refers to Guatama Buddha prior to his enlightenment -- including the countless lives he passed through en route to Mahayana. These earlier lives are called the Jatakas (Sanskrit = birth stories), and they are a very frequent subject of Buddhist lore and art. In Mahayana philosophy, however, there are countless Bodhisattva (this page), and the term is used much more flexibly (as discussed above).

Six States of Existence & Four Noble Worlds
Nine Worlds from Hell to Bodhisattva
Ten Worlds from Hell to Buddhahood
The states from Hell to Bodhisattva are termed "the nine worlds." The highest level, the tenth level, is Buddhahood. The lowest three states are called the three evil paths, or three bad states. They are (1) people in hells; (2) Hungry Ghosts; (3) animals. The next three states are (4) Asuras; (5) Humans; (6) Devas. These six states are collectively known as the Six States of Existence. All beings in these six states are doomed to death and rebirth in a recurring cycle over countless ages -- unless they can break free from desire and attain Buddhahood. Only those who attain enlightenment (the Arhat, Bosatsu and Nyorai) are free from the cycle of birth and death (Skt. = samsara). Click here for Japanese spellings and more details about the lower six states.
People in Hells
Animals
Humans
Devas.

After the above Six States of Existence come the four highest states, which are called the Four Noble Worlds. These final four stages can only be achieved through deliberate effort -- in contrast, our movement within the six lower states is passive and based on false understanding. The Four Noble Worlds are:

Bodhisattva level -- aspires to help all achieve salvation; Mahayana traditions; there are six perfections (Skt. parmita) that a Bodhisattva must cultivate in order to attain Buddhahood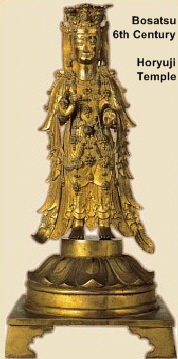 Distinguishing Nyorai & Bosatsu Sculptures
There are some basic guidelines to help distinguish between the Buddha (Jp. Nyorai) and Bodhisattva (Jp. Bosatsu). Nyorai nearly always wear simple monk's robes, without jewelry or ornamentation. In contrast, sculptures of the Bosatsu are generally ornate. Often shown wearing jewelry and princely clothes -- as many as thirteen ornaments including crowns, earrings, necklaces, armlets, bracelets, and anklets -- the Bosatsu can also be recognized (sometimes) by the objects they carry and the creatures they ride. There are many exceptions to the guidelines, mind you. Jizo Bosatsu, for example, is nearly always depicted wearing a simple monk's robe, Dainichi Nyorai is often shown wearing a crown, jewels, and princely clothing, and the Historical Buddha (Shaka Nyorai) is sometimes shown with an ornate head piece. But don't worry too much about rules that don't always work. Despite inconsistencies, the guidelines can go far in enhancing your experience and understanding.

Bosatsu share only one of the 32 physical attributes -- the elongated earlobes (all-hearing) -- of the Nyorai (Buddha). The crowns of the Bosatsu often bear an effigy of their "spiritual father," one of the Five Buddha of Wisdom (i.e., The Five Jina, The Five Tathagata).

Another way to distinguish among the deities (mostly the Nyorai), less so for the Bosatsu) is to look at their hand positions, or mudra. Even though this method doesn't always work, it is still a sound strategy for identifying Buddhist artwork.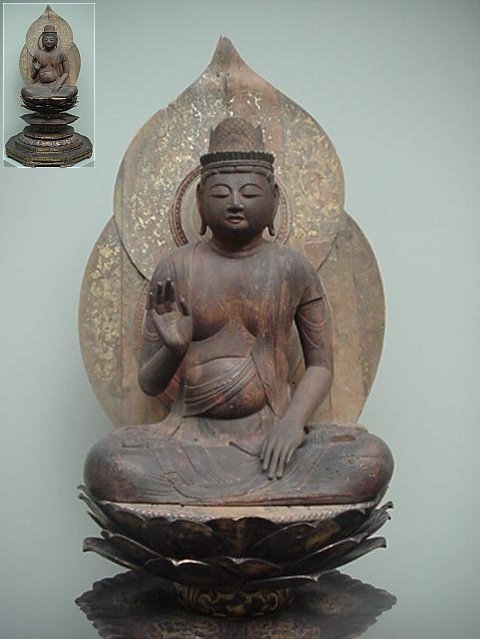 Bodhisattva, Heian Period, Late 12th Century
Wood with Gold Leaf, Smithsonian in Washington D.C.
The above statue is on display at the Smithsonian in Washington D.C., where I took this picture. The plackard says this: "Japanese sculptors of Buddhist images overwhelmingly preferred to work in wood. In this medium, they produced images ranging in size from the monumental guardians for temple gateways to miniature devotional images for portable shrines. This wood sculpture represents a bodhisattva (enlightened being) who is seated on a lotus-shaped throne. The halo behind the figure, which represents light surrounding the deity, still shows traces of gold-leaf decoration. This figure would have been placed on the altar of a Buddhist temple and shows the simple, elegant style prevalent in Japanese Buddhist sculpture of the Heian Period (794 - 1185), which developed under the patronage of the aristocracy.
Statue Types
Nearly all statues of the Nyorai and Bosatsu come in three varieties -- standing, sitting, or half-leg pose, with the deity often shown atop a lotus-shaped platform. Less common types show the deity standing on a cloud, kneeling, or riding on an animal like the mythical Shishi, the Peacock, or the Elephant.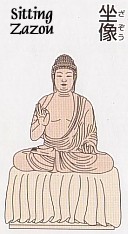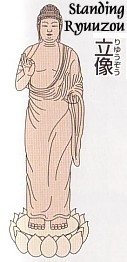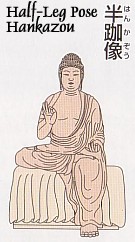 The seated/sitting style is known as the Lotus Position.
The half-leg form is called the Half Lotus Position (a common feature of Miroku statues)
Above clipart courtesy of: "How to View Buddhist Statues (As if Wearing Glasses)"
Japanese Language Only, Published by Shogakukan, 2002, ISBN 4093435014

LEARN MORE
Asuka Era Photo Tour and Nara Era Photo Tour.
View dozens of Bodhisattva stautes made in the 6th through 8th century.

Buddhist-Artwork.com, our sister site, launched in July 2006. This online store sells quality hand-carved wooden Buddha statues and Bodhisattva statues, especially those carved for the Japanese market. It is aimed at art lovers, Buddhist practitioners, and laity alike. Just like this site (OnmarkProductions.com), it is not associated with any educational institution, private corporation, governmental agency, or religious group.
RESOURCES
MUSEUMS, PHOTO ARCHIVES