FOX (Kitsune)
Able to transform into human shape (typically that of a bewitching woman), and to hear and see all secrets of humankind, the fox is Inari's messenger.
TANUKI
Can transform into any living or inanimate shape, but often assumes the form of a monk or a tea kettle to play tricks on people. In legends, the Tanuki can cast powerful illusions -- they can turn leaves into fake money or horse excrement into a delicious-looking dinner.
TENGU
Mountain and forest goblins with both Shinto & Buddhist attributes. Their supernatural powers include shape-shifting into human or animal forms, the ability to speak to humans without moving their mouth, the magic of moving instantly from place to place without using their wings, and the sorcery to appear uninvited in the dreams of the living.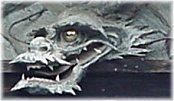 DRAGONS. According to mythology from both China and Japan, dragons possess the power of transformation, and can change themselves into alluring male or female forms and thereafter mate with people. Indeed, the Japanese Imperial family claims direct descent from Princess Toyotama (Rich Jewel or Fruitful Jewel), who was the daughter of the Dragon King. See the DRAGON page for general details about this magical creature, or view the TALE OF HOORI to learn about the origins of Japan's first human emperor, Jimmu Tenno. Because of such tales, the dragon was often used in old-world Asia as the crest or emblem of imperial houses.

Tale of Hoori http://web.archive.org/web/20000815090229/http://www.harapan.co.jp/english/miya_e/myth/kojiki_Hoori.htm