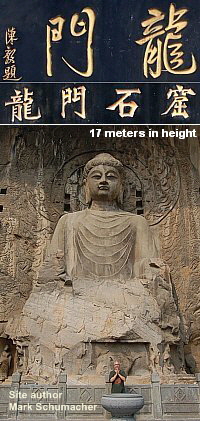 PHOTO TOUR (100+ Photos)
Longmen Grottoes in China
Chinese = Lóngmén Shíku 龍門石窟 or 龙门石窟
Japanese = Ryūmon 龍門
Location: Luòyáng City, Hénán Province, China. The Longmen Grottoes (lit. = Dragon Gate Grottoes) were designated a World Heritage Site in November 2000. The Longmen caves and cliff sculptures of Buddhist divinities are an outstanding example of China's artistic impulse to carve in stone (in this case, limestone). The grottoes and niches were created in phases over the centuries, with the oldest dating back to the late 5th century (Northern Wei Dynasty 386 - 534 AD), and the most recent completed in the 10th century (Tang Dynasty 618 - 907 AD). This long time span provides art historians and art lovers with a wondrous snapshot of China's changing artistic styles and the influence of India and Central Asia on China's Buddhist artwork. The grottoes are situated on both sides of the Yi River, and include some 2,300 caves and niches, over 100,000 Buddhist images, and more than 2,800 inscriptions, all commissioned by various imperial dynasties, top-ranking officers, powerful families, religious leaders, merchants, and even common people (who could only afford the smaller niches). Sadly, numerous statues were damaged in domestic anti-Buddhism campaigns in prior centuries, and more recently by looting and destruction between 1907 - 1938. Many pieces found there way into museums in Germany, France, England, America, and Japan. In the 1960s, during China's Cultural Revolution, numerous Longmen statues were again smashed or beheaded. Nonetheless, the Longmen Grottoes are still a wonder to behold. Many believe that Longmen represents the zenith of stone carving in China. It, along with the stone art at Dunhuang 敦煌 (Mogao Caves 莫高窟) and at Datong 大同 (Yungang Grottoes 雲崗石窟), exemplifies the unrivaled beauty of cave and cliff statuary in early China.
Main Caves & Tourist Route at Longmen Grottoes

Note: In 1961, Chinese authorities designated Longmen as a national cultural treasure. In 1982, the grottoes were among the first scenic zones to gain state protection from China's State Council. In November 2000, the grottoes were designated a World Heritage Site by UNESCO.
Qianxi Temple or Hidden Stream Temple

潜溪寺

(carvings date from 650 to 683 AD)
Binyang Middle Cave 宾阳中洞 (Cave 140, Northern Wei 386-534 AD); carved in 500 - 523 AD.
Binyang South Cave 宾阳南洞 (Cave 159, Sui Dynasty 581-618 AD )
Binyang North Cave 宾阳北洞 (Cave 104, Tang Dynasty 618-907 AD)
Moya, Three Buddha Niche

摩崖 三佛

(carvings date to the Tang Dynasty 618-907 AD)
Wanfo, Cave of 10,000 Buddhas

万佛洞

(Tang Dynasty 618-907 AD)
Lianhua, Lotus Flower Cave

蓮花洞

(Northern Wei Dynasty 386-534AD)
Fengxian Temple

奉先寺

or Ancestor Worshipping Temple

奉先寺

(Tang Dynasty 618-907 AD; carving began in 672, completed circa 672-675); the most famous carvings at Longmen
Yaofang Dong

葯方洞

or Medical Prescription Cave (Northern Wei & Northern Qi)
Guyang Grotto

古阳洞

(Northern Wei Dynasty 386-534 AD); the oldest cave at Longmen
Lord Huangfu Cave

皇甫公窟

(Northern Wei Dynasty 386-534 AD)
Leigutai Caves

擂鼓台

; also called Dawanwufo-dong

大万伍佛洞

(Tang Dynasty 618-907 AD)





| | |
| --- | --- |
| | PHOTO TOUR. Click any photo below to begin slideshow or to view larger image. Details provided in captions. Photos occur in same order as tourist route. If you prefer to view the photos in a traditional "page by page" format, click here for the Traditional Slideshow Format, which features more copious notes. |



LEARN MORE