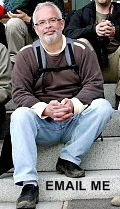 Schumacher is a longtime Japan resident based in Kamakura. He works out of his home. For nearly three decades, he was a writer, editor, PC consultant, and translator (J-E) for major corporations in the US, Japan, Taiwan, and elsewhere. Since 1995 he has served as webmaster, writer/designer, and consultant for numerous Internet companies (both Japanese and foreign). Today he is an independent scholar of Japanese Buddhist statuary, and author of the popular A-to-Z Photo Dictionary of Japan's Buddhist & Shinto Deities (online since 1995). He holds seminars on Buddhist art topics and serves as an art historian, researcher, and appraiser for various museums, scholars, collectors, and art associations. He is also the president of Sake Connections, a Japan-based exporter of premium Japanese sake, and in his spare time runs a small firm exporting modern Buddhist statuary.
EDUCATION & ACADEMIC PUBLICATIONS
Johns Hopkins University (SAIS), Washington, D.C., M.A. International Relations, graduated distinction (top ten), 1990. Gained language certification in Japanese & Mandarin Chinese.

Hamline University, St. Paul, Minnesota. B.A. Asian Studies, graduated magna cum laude, 1982. Honors included Phi Beta Kappa & Kappa Phi. Worked primarily with Professor Richard Kagan and served as his teaching assistant at the undergraduate level.

ABC-Clio 21-Volume World History Encyclopedia. Wrote three entries on Japanese Buddhism, from early history through early Edo period. Also write occasional book reviews for Impressions (Journal of the Japanese Art Society of America), Orientations (magazine for collectors and connoisseurs of Asian art), and other publications. Some of my stories on Japanese Buddhist art are featured at the PMJS (Premodern Japanese Studies) forum of scholars from Japan and elsewhere), while my A-to-Z Dictionary is one of only a handful of non-affiliated sites listed at The Huntington Archive of Buddhist & Asian Art (Ohio State Univ.).
JAPAN EXPERIENCE
President of Sake Connections LLC (established 2009), a Japan-based exporter of Japanese sake and operator of the sake-knowledge site eSake.com (established 1999).
A-to-Z Photo Dictionary of Japan's Buddhist & Shinto Deities. 1995 to Present. Author and Webmaster. Online since 1995, this site is widely referenced by universities, museums, galleries, art historians, Buddhist practitioners, and lay people from around the world. The site's main focus is Japanese Buddhist sculpture.
Buddhist-Artwork.com. July 2006 to Present. Run this online store and gallery, which sells quality hand-carved wood Buddha statues and Bodhisattva statuary from Japan, China, and SE Asia, and is aimed at art lovers, Buddhist practitioners, and laity alike.
Bain & Company. Sept. 1994 to 2008. Edit, rewrite and translate (J-E) Bain case studies on corporate restructuring, mergers, acquisitions, market conditions and other topics.
Japan External Trade Organization (JETRO), 2003 to 2005. Interviewed top foreign business leaders in Japan (e.g., Amazon, Nortel, IKEA). Wrote stories about them for Invest Japan.
Japan Inc. Magazine. October 2000 to 2004. Wrote occasional stories for this popular English magazine. See story on Ecommerce in Japan or story about Venture Capital in Japan.
Robert Whiting, 1999. Research assistant for his highly acclaimed book Tokyo Underworld.
Asahi Weekly, May to June 1998. Wrote 13 short stories for this weekly magazine.
Standard & Poor's, July 1996 to Feb. 1998. Edited S&P reports on Japanese corporations..
International Herald Tribune, Sept. 1995 to 1997. Wrote stories on Japanese businesses.
JETRO, 1993 to 1996. Oversaw publication of monthly eight-page Focus Japan magazine.
Ministry of Int'l Trade & Industry, Import Division & Office of Trade Ombudsman, 1993 & 1994. Translated MITI reports on market initiatives, import promotion, tax incentives, others.
Nihon Keizai Shimbun, English Telecom Service, 1991 to 1994. Edited economic news.
Action Information Associates Inc. Acted as Chief Financial Writer, Translator, and Manager of Foreign Staff, 1992 and 1993. Wrote and translated corporate annual reports for Mitsubishi Corp., Matsushita Electric, JVC and other major Japanese companies. Managed staff of eight.
NEC Corporation. Writer, Editor, Translator & Publications Coordinator 1984 to 1988. Wrote and edited bids and promotional literature involving government/private tenders for AFIS (Automated Fingerprint Identification System). System prices ranged from US$2 to $50 million.
UNITED STATES EXPERIENCE
MY WEB DESIGNS ON JAPAN'S CULTURE & RELIGION